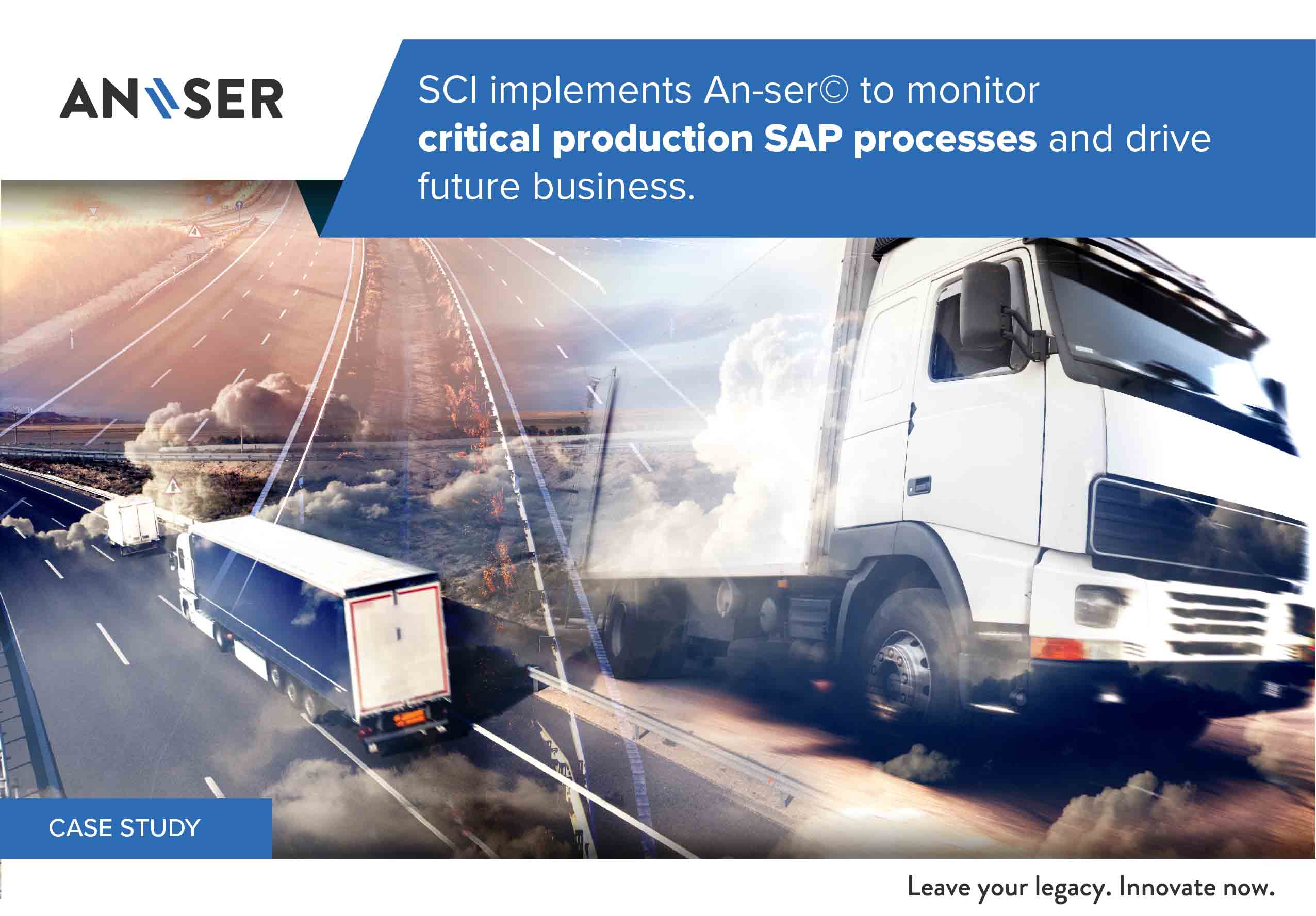 SCI Success Story
Background
SCI is Canada's leading 3PL provider and one whose growth continuously outperforms the industry.  For over 30 years, SCI has been making its clients' businesses even better by expertly planning and managing their supply chain and logistics requirements for Retail, Technology and Healthcare customers.
Business Challenges
SCI's reputation is built on meeting client commitments for supply chain, logistics and delivery performance.  That means critical business processes must operate seamlessly 24×7 from order through to delivery.  Stringent SLAs demand that any process or supply disruption be highlighted and corrected before impacting the customer.
No small challenge when you consider SCI manages over $1 billion in inventory every day!
---
"I feel secure knowing An-ser© is monitoring mission critical SAP processes in our 24×7 enviornment.  This allows my team to react and resolve problems before it affects our customers."
– Steve Larocque, Director Information Technology, SCI
---
The An-ser© Platform
Complex and disparate systems are a leading barrier to full supply chain visibility.  The An-ser platform connects everything, simply and intelligently to address these challenges.  SCI initially launched An-ser© to ensure SLAs were met for critical component suppliers and have extended the solution to provide full supply chain visibility.
An-ser© now allows SCI to sense, analyze and respond to over 600 business critical events across their nationwide network of distribution and fulfillment centres.  Real-time visibility to accurate and time-sensitive information ensures proactive actions can be taken to minimize or eliminate impacts of process or supply disruption to clients.
Reducing or Eliminating Process Risk with Intelligent Automation
Lack of systems integration is frequently cited as a challenge to supply chain innovation.  Process disruptions have a significant impact on supply chain and 3PL delivery performance.  The An-ser© platform easily connects across complex ecosystems to notify SCI employees who can resolve issues before impacting customers.  This level of actionable visibility allows SCI to continuously meet customer SLA commitments.
SCI uses An-ser© to monitor both operational and systems processes.  Intelligent automation supported by the An-ser© rules engine allows systems issues to be corrected on the fly, increasingly without human intervention.  Selected examples of business operations and systems process being monitored 24×7 are highlighted below.
Operations Process Automation
Keeping critical shipments moving without delay is essential to meeting stringent client SLAs.  Rush order handling, change request management and bill-of-lading automation are examples of areas where An-ser© helps SCI meet these commitments.
– Rush Order Alerting – Visibility to rush orders is crucial to operations, An-ser© ensures notification to appropriate warehouse sta­ff for early action.
– Automation of Carrier Bill of Lading – When a delivery is created for a specific set of carriers, an automatic email notification (containing the Bill of Lading Legal Document) is generated and sent to the carrier for tendering.
---
"Accurate invoices and a 500,000 dollar decrease in invoice disputes are expected this year. Our specification change workflow, powered by An-ser©, ensures that all change requests are accurate, costed by both the 3rd party supplier and ourselves and pre-approved by our customer before the 3rd party supplier executes the changes.
The process controls and the audit trails ensure that all work is billable and collectible by both SCI Logistics and the 3rd party supplier."
– Liz Galloway, Director Risk Management & Acquisitions, SCI
---
Systems Process Monitoring
Systems failures are the number one cause of supply chain disruption.  SCI uses An-ser© to monitor critical systems interfaces and background jobs for smooth operation ensuring no process disruption across their SAP and non-SAP environments.
– Critical Interface Monitoring – SAP IDOC's are the cornerstone to using SAP for supply chain fulfilment. Any error or delay in processing can aff­ect the entire supply chain. An-ser© actively monitors for delays or failures and informs the correct target business or IT user for immediate reaction to the cause.  Monitoring and/or correcting inbound and outbound transactions or files minimizes or eliminates delays in processing.
– Ensuring Data Quality Across Disparate Systems – When multiple systems are connected, An-ser© ensures both systems are up-to-date.  Any discrepancies are reconciled prior to critical processing on both platforms.  For example, SCI cannot optimize transportation routes without ensuring all deliveries are accounted for.
– Keeping Background Processes Running Smoothly – SCI uses An-ser© to proactively monitor processing within SAP and business operations.  Job failures or out-of-control long running jobs cause alerts to be raised to the appropriate operations and IT support teams for immediate action.  An-ser's advanced job scheduling can be used to automatically stop, start and re-schedule job queues to minimize or eliminate impacts of processing failures.
---
"As a solutions company in the 3PL business, An-ser© provides value in the pursuit of new business, while at the same time enabling us to better serve our existing customers."
– Chris Thompson, Director Customer Relations, SCI